Hours:
Open weekends in December
Phone: 705-424-9719
Address: 16242 Durham Rd. 30 (Exit 404 at Aurora Rd. Go E. to Durham Rd. 30.)
Directions: Click here...
Website: http://www.drysdales.ca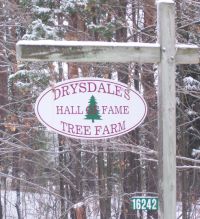 Over 400 fabulous acres of award winning Fraser and Balsam fir, Scotch pine and Spruce. Will provide saws for cutting, tractor drawn wagons to transport you to the field and return with your tree. Will shake, bale and drill your tree for use with our unique one step tree stand.