Hours:
Daily 9:00 AM to dark
Phone: 905 640-3704
Address: 6550 Aurora Road, Stouffville, Ontario, L4A 7X4
Directions: Click here...
Website: http://www.ludbrooktreefarm.com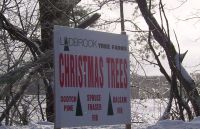 A free wagon ride into and out of the fields. Plenty of on-site free parking. Free tree wrapping with red and white "candy cane" netting. Tree bags available to keep your house needle-free. Warm trailer on-site with free hot cider and cookies inside. Lovely Christmas centerpieces made with fresh greenery from our farm.